Travel
Top 11 Famous Places to Visit in Rajasthan
The gorgeous and historically significant Rajasthan tourism destinations are among India's most popular. Further, the Places to visit in Rajasthan are endless, and the state will compel you to keep returning to explore the unexplored.
For those interested in history, Rajasthan is home to numerous palaces, castles, and other important landmarks. Rajasthan is a must-see for history and architectural enthusiasts since all of its tourist attractions showcase the best of India's architectural design.
As a bonus, Rajasthan is well-known for its local crafts.
Locally produced textiles, sculptures, and paintings may all be found in Rajasthan's markets.
Along with its many attractions, Rajasthan is home to some of the best cuisine in the country. Also, some of the best sweets in India are found in Rajasthan, which is known for its spicy cuisine.
If you're unsure what to do in Rajasthan, the ideal time to visit is during one of the many celebrations held around the state. Rajasthan is home to some of India's most well-known festivals and fairs, and it also celebrates major Hindu holidays with appropriate pomp and circumstance.
Booking your Rajasthan tour packages with Leisure India Holidays will ensure that your time in Rajasthan is exciting, relaxing, and full of unforgettable memories.
Here we bring 11 famous places in Rajasthan to visit during your vacation.
11 Places to Visit In Rajasthan During Your Vacation
1. Udaipur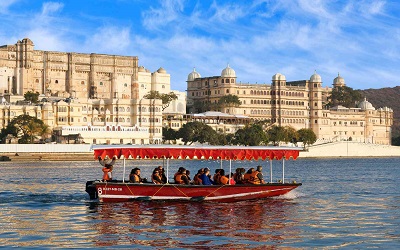 Your Rajasthan sightseeing must include Udaipur. Moreover, it is a stunning metropolis known for its many historical buildings and architectural treasures, including palaces, forts, and temples. Additionally, the city is one of the top honeymoon spots in Rajasthan, drawing couples from all over the world with its famed attractiveness. So it is among the top tourist destinations of Rajasthan.
Udaipur's lakes are beautiful, and boating on them is a great way for couples to spend quality time together amid the water. Additionally, the temples and palaces are popular tourist locations. Also, Udaipur houses Rajasthan's finest honeymoon resort.
2. Jaipur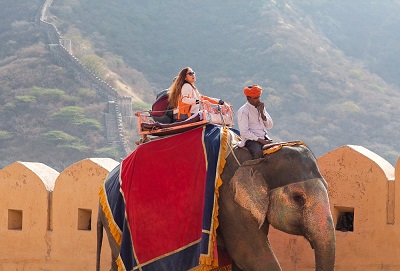 Jaipur is one of the places to visit in Rajasthan due to its impressive palaces, forts, and temples. Moreover, it is a vibrant city, and the buildings here are pink-colored, hence known as the "Pink City." Further, the city has a rich history and a wide variety of traditions. In addition, Jaipur is home to several fascinating attractions, including numerous historical sites worth seeing.
Additionally, the gems, the textiles, and the jewelry industry make Jaipur among the most traveled tourist places in Rajasthan for shoppers.
3. Pushkar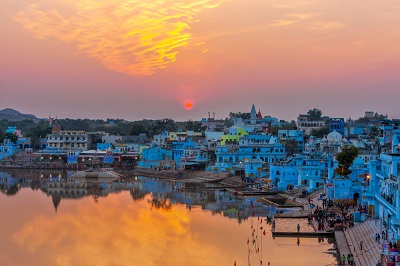 Pushkar is among the Places to visit in Rajasthan due to its abundance of temples and the famous camel fair. The Brahma Temple is among the most famous of the city's religious buildings. Further, each year in November, one of the largest camel fairs in the world takes place: the Pushkar Camel Fair.
Pushkar is a must-see and one of the top tourist attractions in Rajasthan; your time spent there will be memorable.
4. Ranthambore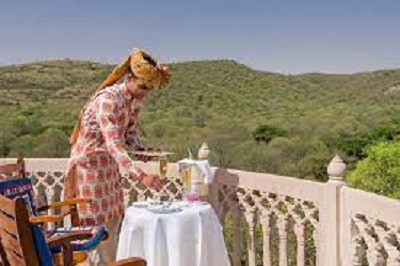 Ranthambore is perfect for couples, friends, or families relaxing in the great outdoors and is among the top places to visit in Rajasthan. Moreover, the Ranthambore National Park is a beautiful place for nature-loving individuals to reconnect with nature. There are a lot of places where you may go trekking, see birds, and see wild animals. When you need to get away from it all and spend some time in the great outdoors, there's no better place than Ranthambore.
5. Mount Abu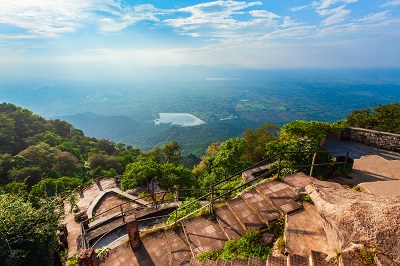 Add Mount Abu to the list of the places to visit in Rajasthan. Located in the Sirohi district of Rajasthan, the hill station of Mount Abu is part of the Aravalli Range. As an added bonus, many people visit Mount Abu to escape Rajasthan's scorching heat. Further, it's a great place to go hiking or trekking since there are trails of varying degrees of difficulty to choose from.
6. Alwar
While traveling from Delhi to Rajasthan, Alwar would be the first major city you encounter. In addition, Alwar is a popular travel destination due to its abundance of historical Havelis, Haveli gardens, lakes, and wildlife sanctuaries like the Sariska Tiger Reserve.
7. Jodhpur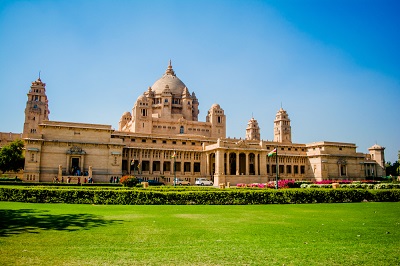 Located in the heart of the Thar Desert, Jodhpur, the second-largest metropolis in Rajasthan and the historic capital of the Marwar, is among the Places to visit in Rajasthan. Also known as the Blue City" since it seems fully blue from an overhead perspective due to its blue walls and residences. Moreover, it is also among the popular tourist attractions in Rajasthan because of the temples, lakes, and refreshments, along with the spectacular Mehrangarh Fort. Further, Jodhpur draws several tourists globally. In addition, its central location in the state makes it an ideal hub from which to explore the rest of Rajasthan.
8. Jaisalmer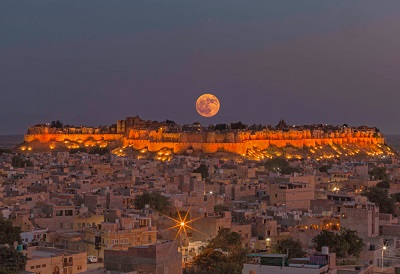 In the middle of the Thar Desert, Jaisalmer is famed as the Golden City for its gorgeous sun-soaked dunes, vibrant forts, and rich history and heritage. Jaisalmer is among the places to visit in Rajasthan due to its many historical landmarks, including its forts, castles, and temples.
9. Kumbhalgarh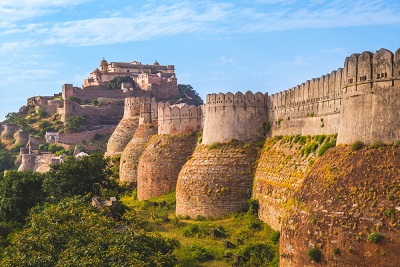 Kumbhalgarh is a fortification in Rajasthan's Rajsamand district, perched above the Aravalli Range. A Mewar Fortress, Kumbhalgarh is a part of the World Heritage Sites as well as India's second-largest fort, following the Chittorgarh Fort.
10. Neemrana
The town of Neemrana is situated on the Delhi-Jaipur route in Alwar, Rajasthan. The Neemrana Fort Palace is prominent for its splendor and among the places to visit in Rajasthan. Neemrana fort has been transformed into one of Rajasthan's oldest historic hotels. The fort has been renovated and enhanced for the public's delight with a combination of history and modernity. Neemrana delivers history, festivals, and colors accompanied by the grandeur of nature for a tranquil and enchanted weekend escape close to Delhi. Additionally, here one may experience the resort's history as well as activities like zip-lining, swimming, etc.
11. Bharatpur
Bharatpur Bird Sanctuary also referred to as Keoladeo Ghana National Park, is a must-see in the region. Further, it also houses several migratory and resident bird species. There's also the fact that the refuge is a major tourist attraction.
Conclusion
So these were some of the places to visit in Rajasthan. If you are all set to visit Rajasthan, then LIH Travel can help you plan a Rajasthan holiday.